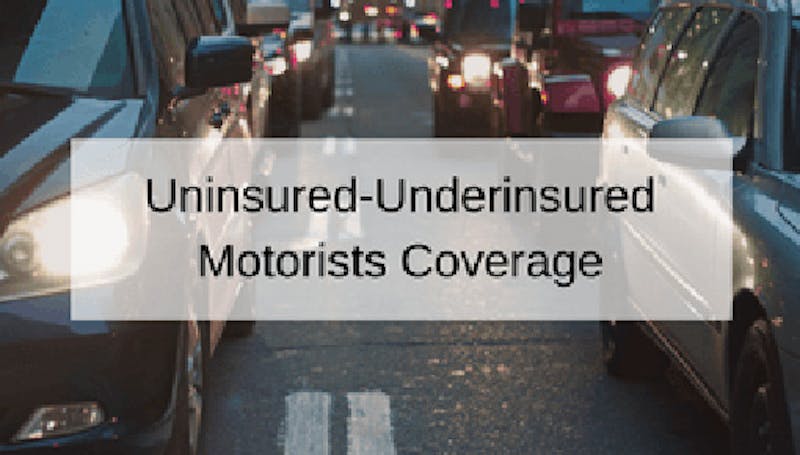 In the state of Texas, everybody should have car insurance. If you go down to get your car inspected, if you go renew your registration, or if you want to get a driver's license. Just about anything, they will ask you for proof of insurance. Everybody should have insurance but the reality of it is that there are about 25 percent uninsured & underinsured motorist out there who have no insurance at all.
There are different types of car insurance.
Liability
This is the one that the state of Texas says you must have. Liability insurance covers you if you cause a wreck. The minimum in the state of Texas is $30,000. If you are in involved in a car wreck and it was your fault, your insurance company will pay for the damage to the other car and to the people who were harmed up to the limits of your policy. If it's a minimum limit policy, it will be $30,000 on the personal injuries caused and $25,000 on the property damage. What if there are multiple people injured in the wreck? The $30,000 limit is doubled to $60,000. So, it is $30,000 per person involved or $60,00 per occurrence.
The reality is that most car crashes can cause damages that are more than the $30,000. If you get hurt, let's say you go to the doctor, ER visit, or if you hurt your back and may need injections. Your medical expenses are going to add up above $30,000 pretty quickly. So, if the person who caused the wreck only has the minimum limit liability policy the most you could ever be able to recover in a claim against that person is $30,000. Technically, you can sue them and get a big judgment against them. However, when you go to collect it, the only thing that's going to be there is the $30,000 in insurance. Then whatever other assets the person may possess. Realistically, if someone is only able to afford a minimum limit policy, they don't have many valuable assets.
How to Respond
So, what do you do in this situation? What if you are in a wreck and someone who caused the wreck caused you to suffer injuries and the value of your claim is above what the insurance limit is of the person who caused it? Well, that's when you look into uninsured and underinsured motorist coverage. So, remember the state of Texas requires you have at least the minimum liability limits of $30,000. Well, the law also says that each insurance policy is to include what's called uninsured and underinsured motorists coverage.
Uninsured and Underinsured Motorists Coverage
This coverage kicks in when somebody else causes a wreck and they are either uninsured or underinsured. There is one little catch on this issue. The statute says the UM UIM coverage can be waived if the person getting the insurance signs a waiver. Unfortunately, there are a lot of insurance agents that just as a matter of course when you go in to get insurance they will give you a quote on liability insurance and slide the waiver of uninsured-underinsured motorist coverage and then you walk out thinking you've got full coverage when in fact you did not get full coverage.
So, make sure you read your insurance policy. You will have a form in which is your proof of insurance but the thing is this doesn't tell you what your limits are. Look at the declarations page on your insurance policy, and it will tell you how much your coverage is. A portion will talk about liability, property damage, and uninsured-underinsured motorist. Uninsured-underinsured is the one you're concerned about because it is what protects you and your family. If you don't have that and if you can afford it, it's only pennies a day to get extra coverage. You should go and talk to your insurance agent and make sure you get the uninsured-underinsured motorist coverage.
Personal Injury Protection
One other aspect is when you get the UM/UIM coverage there's also what's called personal injury protection. It is usually $2,500, $5,000 or $10,000 and that coverage is a no-fault coverage. If you get hurt in your car, lose time from work and acquire medical expenses. Personal injury protection is something you get because you pay for it. So, the idea is if you are going to drive around in the state of Texas and you know 25% of people don't have any insurance coverage, it's in your best interest for you and your family to make sure you have uninsured and underinsured motorist coverage.
If you or someone you know has been effected by a UIM/UI Motorist, contact the experienced attorneys at Perdue & Kidd. Like us on Facebook!